Our New Plastic Factory in the Philippines
Growing our Plastic Thermoforming & Injection capacity in the Philippines
The Alcami team is excited to announce we've started operations at our state-of-the-art plastic manufacturing facility, situated in the Lipa Special Economic Zone (LISP3) in Batangas, Philippines.
This new facility, constructed in just 18 months at an investment of $6.2 million, more than doubles Alcami's manufacturing capacity in the Philippines.
Strategically located just across the Santo Tomas highway exit, the plant is exceptionally easy to reach, further enhancing its appeal. Remarkably, the construction process was so ambitious that it required the relocation of a mountain—specifically, 8,000 trucks of soil were moved to make way for the facility. Additionally, our on-site meeting room offers a panoramic view of Mount Makiling, adding a touch of scenic beauty to our advanced manufacturing environment.
No matter what your manufacturing project, Alacami is here to help. We have an in-house team of design engineers and incorporated post-production services to help us run your project smoothly from start to finish. Contact us today to learn more about what we can do for you.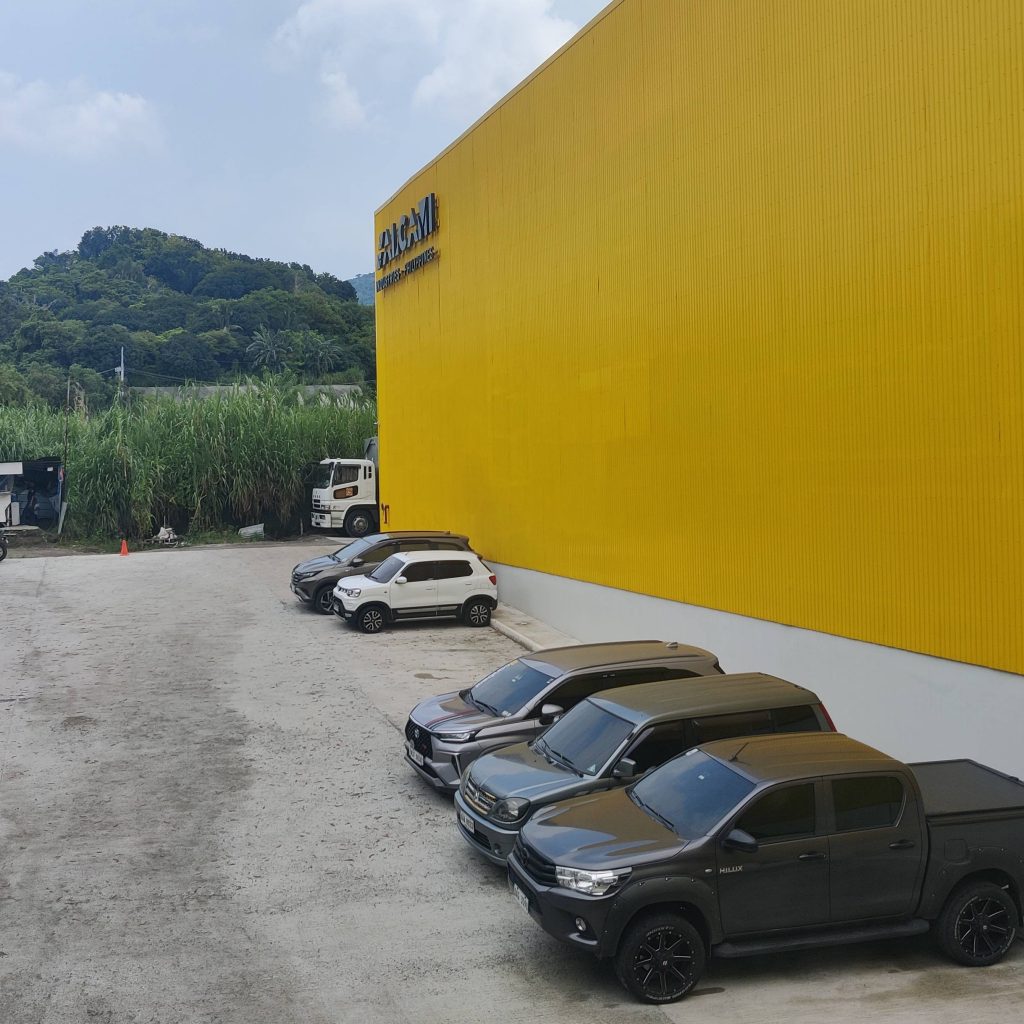 Massive Production Capacity
Spanning 5600 square meters of floor space, this facility was designed and built specifically for high-volume plastic parts production. The factory contains thermoforming and injection molding equipment with the capacity to produce over 20 million thermoformed plastic trays per year as well as 5 million injected plastic parts annually. This immense capacity will allow Alcami to fulfill substantially larger order volumes and meet tighter delivery timelines for clients.
Plastic Thermoforming and Molding
The plant combines a wide range of the latest plastic manufacturing technologies all under one roof. The facility is equipped with state-of-the-art thermoforming machines, injection molding systems, computer numerical control (CNC) machining centers, sheet extrusion lines, and plastic film slitting equipment. One highlight is the factory's top-of-the-line CNC machining center capable of crafting extremely precise plastic molds to ensure accuracy and consistency in our production runs.
Cleanroom Manufacturing Environment
A major feature that makes this facility unique is its class 1000 (ISO 7) cleanroom for manufacturing plastic components where contamination control is essential. The highly regulated cleanroom environment provides industries such as, electronics packaging, medical devices, and with a contaminant-free production area for their products.
Fully Integrated Production Services
Alcami handles every stage of the production process in-house. We offer complete pre-production services including part design, prototyping, and mold fabrication. During production, we perform all plastic forming, machining, finishing, cleaning, assembly, and testing in-house before packaging and shipping finished products globally. This degree of vertical integration improves quality control and work coordination from start to finish.
A Highly Skilled Workforce
Strategically located near Manila, our new Philippine plant provides ready access to the country's talented workforce. Companies can leverage the facility's proximity to highly skilled, technical workers at very competitive labor rates compared to other countries in the region.
Veteran Plastic Engineering Leadership
The facility is helmed by Alcami's Daniel Julaton , an industry veteran with decades of experience across all major plastics manufacturing technologies. He and his team have specialized expertise in cleanroom production, quality assurance, and operational excellence which helps ensure that the plant runs efficiently.
Certified for Quality Management
As an ISO 9001 and ISO 14001 certified company, Alcami's new Philippine factory has implemented rigorous quality management and environmental sustainability systems that comply with international standards. Customers can be confident that our facility meets the highest quality, safety, and compliance requirements.
We're Looking Forward to Your Requirements
Alcami's new full-service plastic manufacturing operation in the Philippines enables us to deliver vertically integrated, technology-driven solutions backed by advanced technical capabilities and seasoned executive leadership. Companies worldwide are invited to leverage this state-of-the-art facility to produce innovative plastic products and take their manufacturing capabilities to the next level.
Get in Touch - We Can Help
Alcami combines different production technologies allowing us to provide a turnkey solution for a variety of parts. We combine this with sourcing and logistics services, so our customers don't need to worry about shipping and storage.